Yesterday I saw lots of blossoms coming directly out of the trunks. Weird and cool!
"Frilly, frothy cherriness," is the way my friend K-brow describes the bloom. Oh yeah. What's really cool about this time of year is the juxtaposition of all that soft, ephemeral, brand new pinkness blossoming from a tree whose trunk is truly the most gnarly thing you've ever seen. Cherry tree trunks are twisted, lumpy, sporting an uneven texture of bumps and grinds. They are amazing to look at, though I would never call them pretty. When they bloom, cherry trees bring together grizzled old age with smooth, pink infancy. It is a powerful alchemy!
So it's no wonder that a part of my annual cherry ritual includes eating some of the blossoms. When I tell people this, they always look alarmed, tell me I shouldn't eat them, that they probably aren't edible or might hurt me. I eat some every year, people. So far they have had no perceivable impact on me, other than producing an urge to wear pink for a few days afterwards.
Though extremely bitter, I can taste the cherry in them. They taste like unsweetened cough syrup. According to Chinese medicine, cherries are good for the heart. I know, I KNOW, I'm not eating cherries and in fact these Japanese cherry trees do not actually ever produce fruit. But I'm eating the essence of cherry. I'm taking into my body the alchemy I described above. I am eating spring. How can that be bad for me, especially at my age?
I'm sure the ducks eat plenty of blossoms, too. Once the bloom has passed its peak, bushels of cherry blossom petals flutter into the basin like pink snow. Considering their diet of discarded tourist junk food, the blossoms are probably the most delicious thing those ducks ever get.
It's another splendid day today. My plans include a very long walk with the big dog past all the blooming cherry trees on Capitol Hill. My goodness, I love Washington DC in spring. Oh yeah!!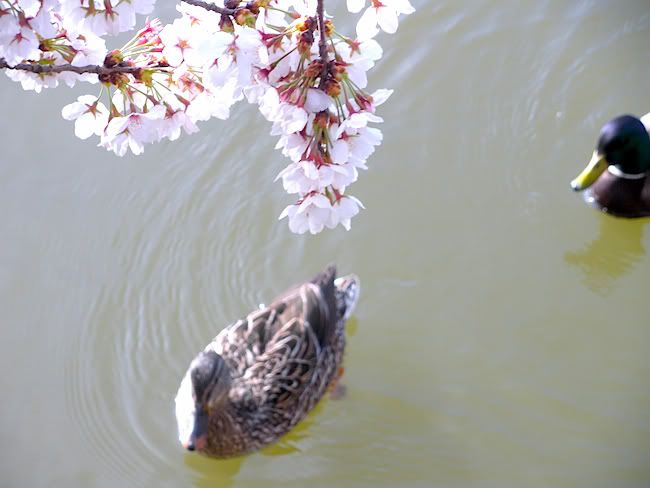 "Junk food" is an oxymoron, isn't it?