A man and his little dog Lana. I put a slight diffuse glow around the pic because Lana appeared completely worried. Does it help?
I am a mighty worrier. That's right: WORRIER, not WARRIOR. When Jake was alive I had plenty to worry about, i.e. Would he bite the UPS man? Is he sick? Why is he eating so many American Elm leaves? Does he need to go out? Is he hungry? etc. Now that he's gone I don't have the same focus for my habit of worry. Hence I've been worried about a whole host of other things.
Naturally I've worried about the bank account looting. That was deserving of a good worry, eh? I've been a little bit worried about my own health, too, mostly the result of transferred worry about Jake's health back on myself.
Also, I've returned to an old habit of worrying about the world, as if it can't take care of itself. For heaven's sake. For instance: as a "can-do" kind of species, we tend to want to fix things. There are scientists who think they can reverse global warming by seeding the ocean beds with something, carbon dioxide, I think. What I wish the scientists could remember is that we tend to create BIGGER problems every time we try to fix things. Leave the ocean beds, alone, please!! Instead of fixing global warming, why not turn all cars into hybrids, work on public transportation, lower the quantity of beef produced around the world, reduce manufacturing, eliminate packaging, as much as possible, in other words stop creating global warming. And then we could just see what happens. My sense is that the earth is self-healing, given a chance.
I could name many other reasons to worry about the world, but you get the picture, yes?
One thing that doesn't worry me is the news today that President Obama has been chosen as the recipient of the Nobel Peace Prize. This is great for him, but also GREAT for the U.S. presidency, a very flawed and impossible job. Obama is bringing great energy into the oval office, thank God!
Today I'm going to do a lot of mindful breathing inbetween clients, see if I can exhale some of the pervasive worry I'm carrying around. Wish me luck!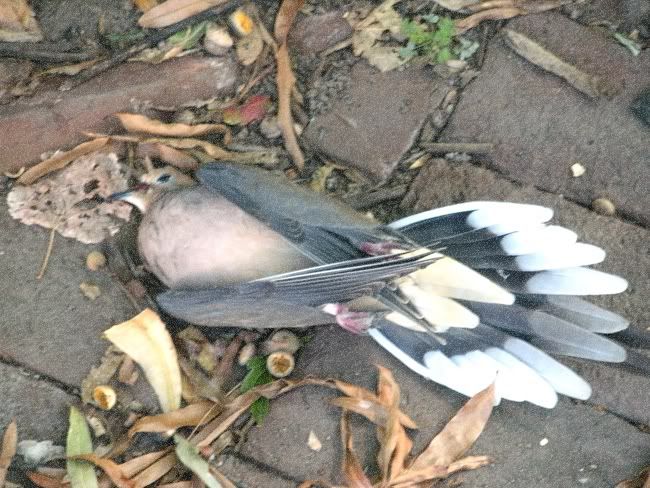 This pidgeon died gracefully. May we all go so beautifully (when the time arrives, of course)