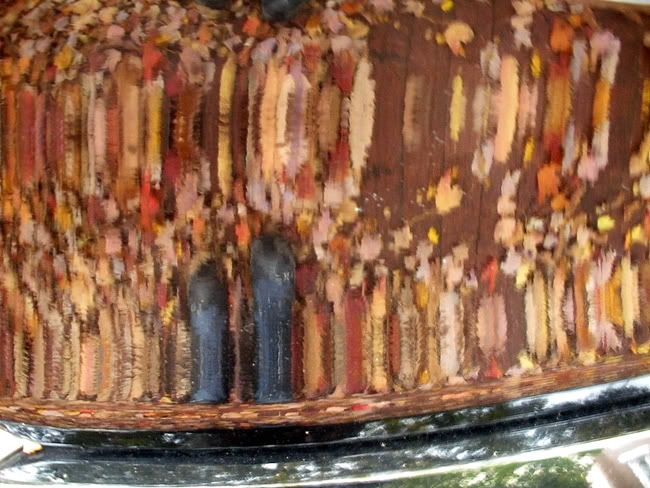 My feet, reversed and distorted in this reflection shot. I'm wearing decidedly non-glamorous sneakers.
One great thing about living a long life is that only over time can a person gather lots of experiences. Only over time can a person access some perspective on those experiences, only over time can a person develop wisdom. When I see that someone in his/her thirties has written a memoir, I have to laugh. I know that the society I live within is built on the idea that old age should be avoided at all costs, so perhaps that leads folks to believe a memoir is best written before the age of forty. Isn't that sad? A memoir of young adulthood is not a story of a whole life, is it? Seems premature unless the assumption is that any life experience occuring after age forty is not worth writing about. I guess!
I've broken no laws by growing older, I've done nothing wrong; I just haven't died yet. Why is getting older seen as so heinous? Why should I be ashamed, and try to hide my age? Why??
Looking through my boxes of photos, thinking back on who I was during all the past lifetimes of this particular life - the one I'm now living - I've been reminded how much better suited I am, temperamentally, to middle age. I have a feeling I'll be even more at home as an old lady, in spite of all the physical changes that are a part of aging.
I'm all done with this bout of reminiscence. Onwards & upwards. Though, it was fun slogging through the dropped leaves of past decades, and lots of fun sharing pictures here. I would LOVE to see old pics on other blogs, hint, hint.
I like being 56, almost 57. I love looking at the old pics but I'm just as happy looking into the mirror at who I am now, a bit worse for wear perhaps, no longer svelte or glamorous, but comfortable, healthy, and cheerful. As is, that's me. As is. Love it or leave it, people! Oh yeah!
Here is a pic of my Fluevog angel boots, all glittered up. In October, 1999, I was a guest high priestess/master of ceremonies at the Halloween/Samhain ritual held for the Reclaiming community in Vancouver, British Columbia. That ritual, the Spiral Dance, was the biggest event of the year, hence the need for seriously great ritual outfits for visiting priestesses. I loved those boots.