"Jewish mysticism tells us that angels are guiding us all the time. If we are open to them, they will help us on our path and remind us of our destiny."
Do you believe in angels? I do. I often feel their presence. Sometimes I feel I am allowed to "see" them, in my mind's eye. They are so bright, in my imagination, that it hurts to gaze directly, but I do get the feeling they are white. From my "real" eyes I believe I'm catching a glimpse anytime I see feathery cloud formations like these, or when the first great cumulus clouds arrive in springtime. Clouds are the angelic wardrobe of choice.
Of course I'm not the first person to believe in angels nor am I likely to be the last. As you would expect, angels and their stories are featured in many classic religious texts. Angels show up all the time in the arts, too, in songs, poems, books, paintings, plays and movies. The picture that comes to mind right now is of that movie "Michael" starring John Travolta as the angel with a sweet tooth for all the pleasures of human experience. So cute!
The film
Wings of Desire
is one of my all time favorites. Bruno Ganz as an angel in a trenchcoat, with slicked back hair? All I can say is wow.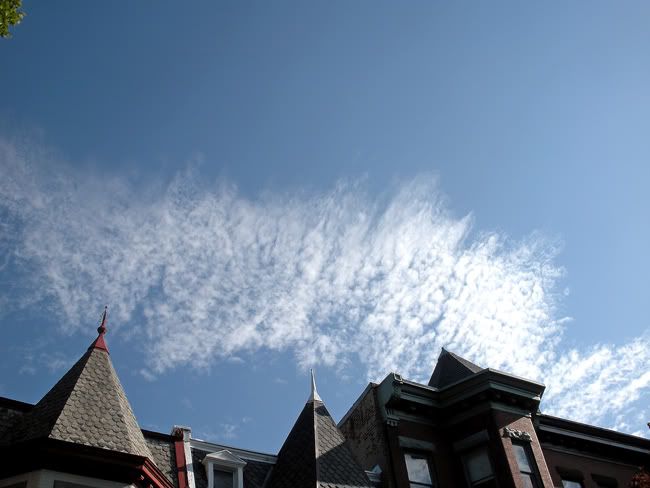 During the middle ages, Judaism, Christianity and Islam got pretty weird. It was a tough time for monotheism, whew! Though I've never read the Midrash or Talmud, I've gleened bits and pieces of what came into the minds of those rabbis, sitting around all night drinking red wine and arguing theology, while perhaps they were being persecuted, or the plague was running wild through their shtetls.
One thing medieval rabbis thought a lot about were angels. I've read various accounts, so I hope I'm not making up any part of the following. These ideas about angels really illuminate the theological mindset of that time period. Don't ask me to come to any conclusions about that moment in European history - all I know for sure is: it was weird.
Angels, according to the Talmud, are constantly being created as a result of God making proclamations. They can be as small as a pea or as large as 1/3 the side of the earth. Each comes with one job, a singular duty. Some last only a fraction of a second, if they complete their task quickly. Some stick around for hundreds of years. Also, the so called "impulse to evil" has no effect on angels, according to the Talmud. They are never tempted to go to the dark side, though they can make mistakes.
Medieval European Jewish angels were very complicated beings like characters in a play.
I don't believe in anything "supernatural." To me, angels are as miraculous - and normal - as snowflakes and rainbows. According to the cosmology of Reya, angels are part of the complex network of the natural world. They do project a very pure energy, like one tone played over and over - a beautiful tone, focused and clear.
The angel "wings" in these pics drifted over DC during the afternoon of this perfect autumn day. Thanks, brothers and sisters, for the visit today. It's always great to notice when you're around. Fly high brothers! See you soon!