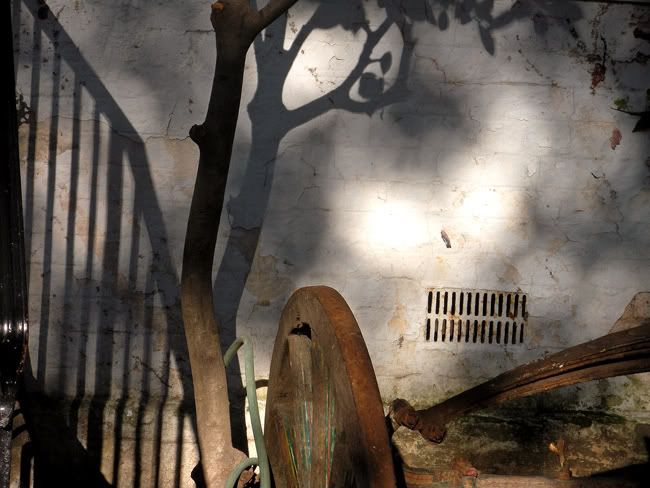 Yesterday turned out to be one of my favorite Yom Kippurs of all time. Part of that I owe to the wonderful clients who came to see me, each in a very different place; one about to give birth, another wondering what happened to her youth and vitality, one who is a good friend, and finally a Reiki student, luminous and reverent.
Variety was part of the magic of yesterday in the weather, too. Sunny, breezy and warm, then overcast, dark and threatening, then clear with puffy clouds, then overcast again, etc.
Before work I walked to Eastern Market to check out the vibe of the day. On the way, a car pulled out in front of me while I was crossing the street. Nothing unusual there. The miracle was when he stopped, rolled down his window and said, "Sorry I almost ran over you - I'm still kind of sleepy."
Whoa.
DC drivers never ever, not EVER, apologize. I knew right then that God was with me. A few minutes later I overheard a little girl asking her mother, "Does God have eyelashes?" Nice, eh? Some guy started a conversation just as I left Eastern Market, then walked with me for several blocks, just chatting. This, too, rarely happens between strangers in DC, even on Capitol Hill. The Big Divine Wisdom and Love was definitely close all day.
Because I didn't need to review the year just past, God and I engaged in several lively conversations about what's ahead for me. We talked about what I want for my old age, for instance. Here's the list that includes what I
don't
already have (such as my great good health - thank you God!!)
What I Want for Old Age, thanks for asking:
1. A husband
2. Eat-in kitchen
3. Two dogs
4. A porch with rockers
5. Stars
Right before sunset, God appeared in his
crepuscular ray outfit
. It was a very stylish hail and farewell, a perfect end to an exquisite holiday. Happy New Year, y'all. L'chaim!