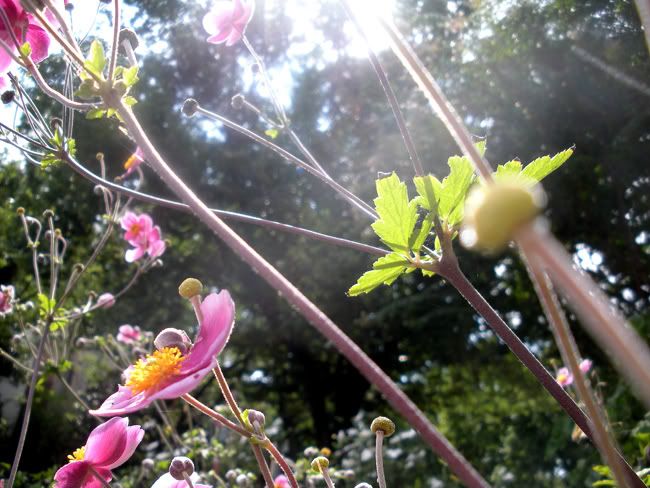 The angle of the sun is perfect at this moment in early fall. All the tiny late summer flowers stretch up towards the fading days.
You know that phrase, cross stitched on a million pillows, or framed and hung in the kitchen, made famous forever when Dorothy clicked her heels together three times, right?
There's no place like home.
Of course you know it. That phrase is literally true for me.
I've lived in all four time zones of the continental United States, in cities, suburbs and rural areas (I think Lake Tahoe is rural, yes?) None of these locations (at least yet) has felt 100% like home, not ever.
I've done a decent job making myself comfortable everywhere I've lived - except Portland, Oregon, that is. I never felt at ease the whole time I lived there though admittedly I hadn't had a lot of practice and at the time I was one holy mess of unresolved issues. Can't blame Portland for the miseries, train wreck and nervous breakdown I suffered when I lived there. No wonder I began to call Portland "My City of Spiritual Lacerations" as soon as I moved away. Other than the non-stop rain, it wasn't Portland's fault.
Yesterday I made a lengthy list of qualities that would create the perfect home for me, ranging from specifics such as
lettuce as good as can be had in San Francisco, air as sweet as in Lake Tahoe,
and
four defined and dramatic seasons like in DC,
as well as more general attributes like "stars" and "proximity to a big body of water - river, lake or ocean." After I finished the list I tallied up the results. San Francisco, DC, Lake Tahoe and "Other city" scored exactly the same number of desirable qualities.
Had to laugh. I'm at home everywhere and nowhere. That's OK, isn't it? I say it is. So be it.
Driving tour of the Golden Gate Bridge.