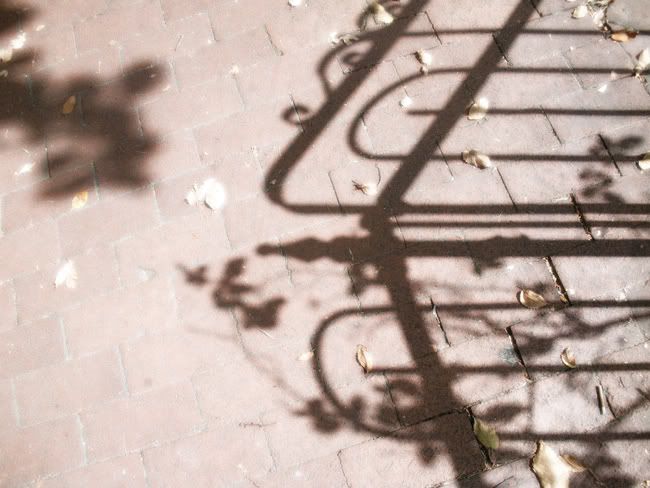 "Diffuse Glow" is the name of one of the "distortions" that can be applied in Photoshop. I've placed a diffuse glow over both pics accompanying today's post.
My pics have not been all that interesting to my eye lately. I'm tired of looking at the same old things, the leaves scattered on the pavements, reflections in shiny cars, shadows. Placing diffuse glow on top of these images makes them slightly more intriguing to my eye as I search for something new to photograph.
It's actually no mystery that the same old sights are no longer so compelling. A recent onslaught of visions has been more intense than any psychic download of recent years, rendering my old way of looking at the world obsolete, dated, and boring. Most of these visions are showing me new ways to look at the same things, they are providing my mind with fresh ideas about the same-old, same-old from the inside out, mostly.
For instance, during a Reiki session this week, in my mind's eye, I "saw" the spirit guide I call Grandpa carving a totem pole of light on or close to the spine of my client. I realized in a flash of diffused glow insight that he has been working on a similar totem pole inside me for a long time. What that means, I can't tell you, but the realization had impact. At what level does an insight become a revelation? You tell me.
I also now "see" that the big dipper, in its rotation around the Pole Star, dips every night into the underworld, scooping up souls that are then carried into the sky and later "poured" into the small dipper. In other words, the constellations routinely perform soul retrieval on a huge scale, something we humans have been doing in a much smaller, more personal way since the beginnings of consciousness. I wonder if that's where we got the idea of soul retrieval in the first place? As above, so below. Oh yeah.
Is that too weird? OK. Another, more down-to-earth revelation is that for the first time this week, I SAW, with my own eyes, the Sufi acupuncturist's physical beauty. When I look at him what I'm accustomed to seeing is genius, brilliance, the legacy of Chinese medicine's ancient wisdom shining through his intelligent eyes. But when my clients go to see him, they always say, "Reya why didn't you tell me he is so CUTE?" I never understood what they were talking about. But this week I looked at him and saw what my clients are always talking about. It wasn't romantic or lustful in any way, but it was a visual revelation. He is so gorgeous! Wow.
Not surprisingly, my physical eyes have felt very tired and achey, overexposed. It's been difficult to gaze into the computer screen and TV, which is why I've not been around visiting y'all as I usually do.
What does it mean when one's field of vision shifts so dramatically? It all seems very exciting, as it should to a philosopher mystic which is, after all, what I am. But maybe it just sounds crazy to you. Does it? Has this ever happened to you?
Michelle Obama made it happen - a farmer's market on Vermont Avenue just behind Lafayette Park. All that organic food radiates good vibes in a neighborhood that's usually just businesslike. Talk about moxie!