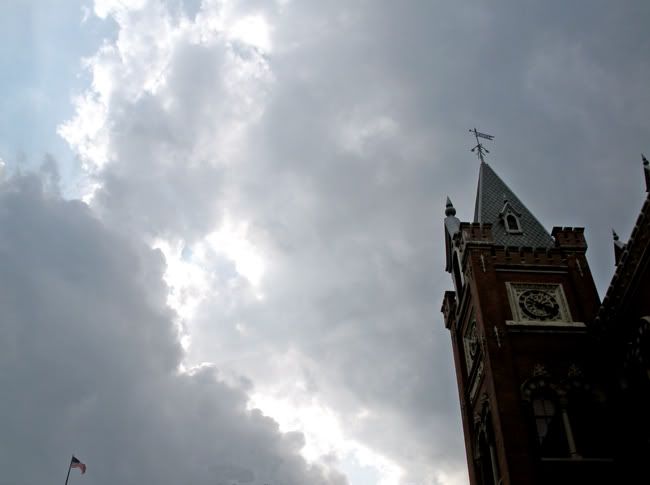 St. Matthews Cathedral
I don't know where the quantum physicists stand on it these days - since I don't speak math I have to wait for books written for the layperson to be published before I find out about the latest theories, but at least a couple of years ago, some physicists were really into the idea of loop quantum cosmology, the idea of a breathing universe that forever expands and contracts. A quantum "bridge" connects one expansion to the expansion of the next universe.
This theory is
crazily in sync with Hindu cosmology
, but ... that's a whole post in itself.
In the micro-universe of my life, I have experienced the quantum loop of expansion and contraction several times over. You know the saying, "When one door closes, another will open"? It's a good colloquialism for the phenomena.
For the last few years, my universe has been contracting. I broke up with an ex and haven't dated since, I left my spiritual community and though I've been interested, I have not joined another. Even my work life contracted when I moved from Healing Arts, about a half hour walk from where I live, to Quiet Waters, which is right across the street from the house on Tennessee Ave. When Jake died earlier this summer, I felt my whole life had completely collapsed since he had become my Everything - best friend, spiritual community, partner, roommate. Not true of course, but I tend to be kind of dramatic.
Currently I'm experiencing a quantum time loop situation in which my universe is expanding, in part, by way of the past. I am looping backwards in time, re-uniting and re-connecting with people I knew long ago, longer ago, and from way back in time close to the big bang of my birth. In some way that the physicists might say has to do with crossing the quantum bridge, I am bringing my past into my present, re-securing relationships so that I can carry on into the future.
As usual the miraculous ways of the world, the intricacies of the rhythms of life, blow my mind. I am really enjoying my expanding universe, more than I can say. I am humbled and grateful. Wow