Tahoe from its northeast corner.
I had high hopes for my vacation. I had secret agendas centered around some kind of miraculous and spontaneous regeneration of heart and soul. I prayed for some kind of shift away from all the sadness I've experienced since my dog died earlier this summer.
Having been around the block a few times, though, I assumed that perhaps my hopes were a bit too ambitious. I assumed (when I was being rational) that it would be a fun nice refreshing break from the usual, and I was of course very much looking forward to reconnecting with old friends I haven't seen in ages.
If that's all it had been, it would have been more than enough.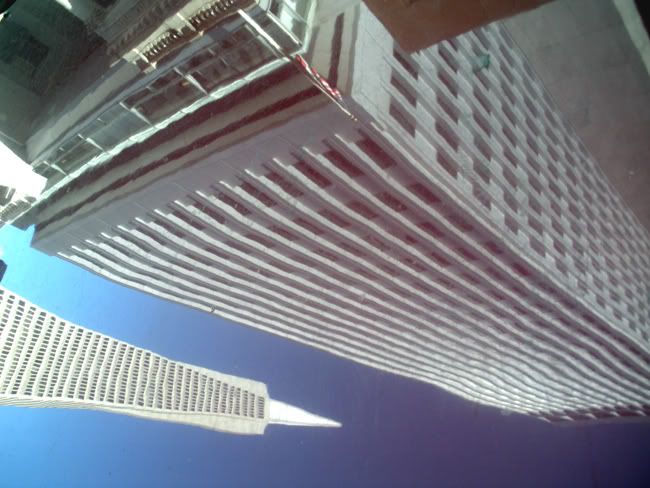 Sacramento Street, close to Montgomery (reversed and distorted, reflected from the hood of a black Prius).
San Francisco was in a good mood the day I was there, a really good mood. I was given the opportunity to experience the magic of the swirling fog. (It really is magic and deserves a whole post to itself.) At the perfect moment, however, the fog cleared away completely, revealing the city in sparkling technicolor. Wow. When San Francisco shines, it really shines.
As is my practice when I'm there, I ate as much lettuce as I could, marveled at the soft, clean tap water, and stared dumbfounded out of windows that are not obscured by screens. There are no bugs in San Francisco. Can you imagine?
The Ferry Building, at the foot of Market Street.
I spent most of my holiday above 6,000 feet at Lake Tahoe, gasping for air (I am a swamp thing, after all, so the altitude was a shock), gathering with friends I haven't seen in more than 15 years, feasting, toasting, bellowing, laughing, cooking together, drinking and making up for lost time.
There is so much love and commitment among those people. The core group have known each other since high school where they immediately bonded and started doing theater together. As the years passed they collected spouses and friends as people do, all of whom were immediately adopted by everyone in the core group. It's a family of spirit that I am honored to be a part of.
Reconnecting with this family was a miracle, it really was. The confluence of fifty-somethings in the deep blue light and sweet smelling air of Tahoe was an elixir the likes of which I've never experienced. The effect on me was spectacular, a soul retrieval of the highest magnitude you can imagine. I don't have the language to describe it. It was bliss.
The island in the center of Emerald Bay.
Each night after the sun set, we turned off all the lights, went out on the deck and gazed at the stars. STARS!! I saw So Many Stars! I saw the Milky Way three nights in a row. I wept with happiness three nights in a row, seriously I did.
Saturday I had lunch with Nancy of the blog
Life in the Second Half
who is as beautiful, lovely, smart and compassionate as she is on the blog. After our lunch, my old friend Dave drove me all the way around the lake. Tahoe is 29 miles long and 15 miles wide. It's BIG. Dave has a jeep, the top was down, my hair was flying around, the weather was absolute perfection. I was in ecstacy. He didn't wince, frown or stare at me as I shouted I LOVE YOU at the lake over and over again. He knows me really well, and understood exactly what was going on. Wow.
Nancy and her husband, studying the lunch menu.
Yes I am still flying high, yes I am. My vacation was everything I hoped it would be. And more - how could that happen? Someone up there really likes me, obviously.
My heart is full of love, splendor and more gratitude than I knew I could experience. All I can say is: wow.
Heavenly Valley, a ski resort, seen from the west side of the lake.