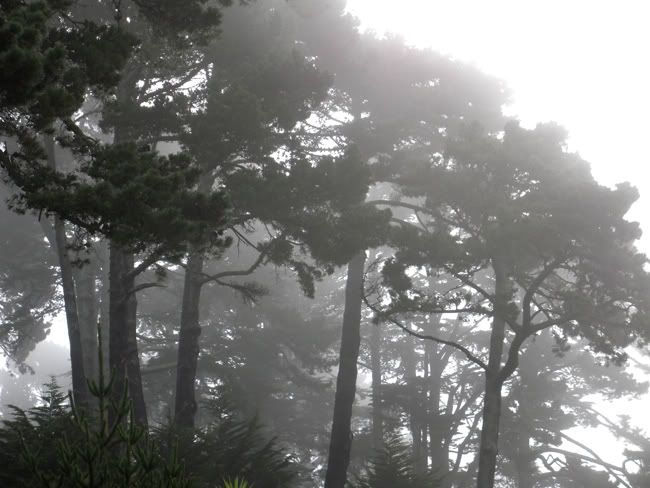 On the campus of San Francisco University.The fog comes
on little cat feet.

It sits looking
over harbor and city
on silent haunches
and then moves on.

--Carl Sandburg
Hmmm. Well sometimes it does, though other times, the fog blasts into San Francisco with gale force winds. I can remember standing on Bernal Hill, close to where I lived most of my years in the city, almost knocked down by the force of incoming fog. At those times, the temperature plunges by ten degrees within a matter of five minutes, while the landscape is transformed from sparkling and shiny, like yesterday's pics, to gray and moody - all at once. Fierce fogs like that are powered by the Pacific Ocean, so its no wonder they can be so extreme.
When I lived in San Francisco, getting out of the fog was my prime directive, particularly because I moved there from Lake Tahoe which is always sunny unless there's a storm brewing. Because I always turned tail and ran when the fog came in, (if possible) I missed out on its magic, failed to notice that every fog has its own personality and plotline (the way that every thunderstorm is a different creature.)
Also true is that fogs shifted gear as they moved east across the city. By the time the fog reached Noe Valley, Bernal Hill and the Mission (where I spent most of my time) it mostly consisted of a low and dreary overcast, unremarkable (and unwelcome) to my eye, though maybe I just wasn't paying close enough attention.
The friends I stayed with last week live in Cole Valley, a juncture between the part of the city that exists
inside
the fog and the neighborhoods that are mostly
underneath
it. Misty, swirling, mezmerizing, and right in your face, the fog in Cole Valley fools the eye as well as the mind.
It's no wonder San Franciscans understand magic so well. Clouds in most places are remote, but in San Francisco, it's an everyday experience to be enveloped by clouds. The weather gods wave their silky veils right in front of our eyes, sometimes completely obliterating the visual details of the land, sometimes putting just enough fog in a location to make it seem mysterious, other times yanking the fog away to reveal the aquamarine sky and brilliant sunlight. It's not uncommon to experience all three environments on the same day. I always loved the idea of fog being "burned away" or "burned off." It's conceptually so interesting.
Never before would I have imagined I could enjoy fog, but last week I was enchanted - even seduced - by its charms. Who knew that even the fog would contribute to my perfect vacation? Isn't that cool?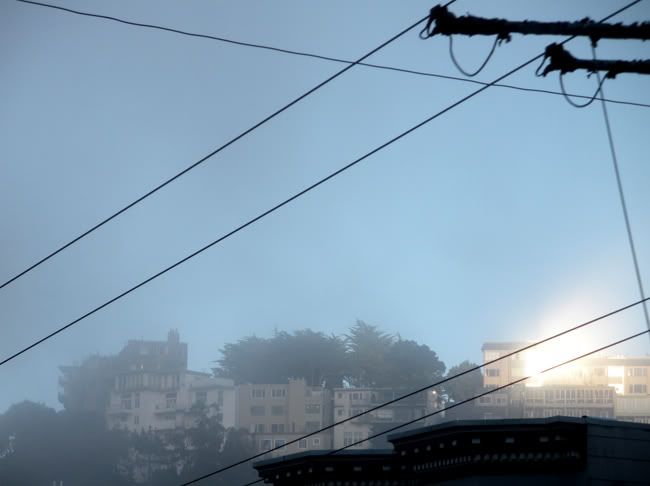 That house is not actually on fire. Its windows are reflecting the late afternoon sun. Between the house and the camera lens, a beautiful, thin, gauzy sort of fog created the dramatic vision.