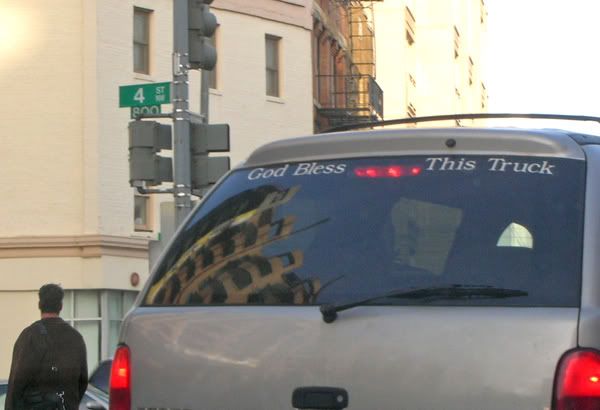 Is it OK to ask God to bless your truck? I guess so ... even though it would never occur to me that a truck needs a blessing. Maybe that truck doesn't run so well, or needs an oil change. Maybe the tires are bald. Or maybe whoever drives the truck is worried about traffic, road rage or something.
Sights like this always make me wonder.
Growing up I was taught that it's improper (or maybe impolite?) to ask God for anything. We were told to praise God and give thanks for all our good fortunes. Fast forward several decades to when I studied Judaism - who knew that actually it's perfectly OK to ask God for all kinds of things! It was a revelation not only about Judaism but about my family, too. Oh yeah!
Of course, there are ethical rules around prayers of request. For instance, if, as you drive into your neighborhood, you see firetrucks and smoke in the distance, you're not supposed to pray that it's not your house that's on fire. The Rabbi said what's done is done. It's not right to ask that it be undone. Also, this kind of prayer is a way of asking God to make sure it's
someone else's house
that's going up in smoke. That's not very nice, is it?
It's fine, though, to pray for the people whose house is burning, to ask that they find a way to access the resources, strength and courage they need to deal with whatever is happening. Elegant, I think. It also seems so much more practical, not to mention compassionate, than any "please, not ME" kind of prayer.
Every day these days, I'm using the structure of the daily Amidah prayer, except I'm free-forming the content. It goes like this: stand up (Amidah means "standing"), quietly but audibly ask God to open your eyes so you can see. Then say six prayers of praise, six prayers of request and six prayers of thanksgiving. The Amidah, too, is an elegant structure for prayer.
What I experience, every time I stand and pray, is that there is a receptivity to
anything
I might want to say or ask of the Almighty Eternal Wisdom and Love that is far more than a sum of its infinite parts. I always sense that this Unimaginably Great Wisdom and Love (I call it God) is ready to listen and respond, lend comfort, guidance and compassion. When God speaks to me, He says, "Go ahead. Say whatever's on your mind. I'll listen, and maybe I can even help. Anytime, my dear." God is such a good guy, really He is.
Given my experience, it probably is perfectly fine to ask God to bless your truck. Why not? But ... to announce it with a decal on the back window? What's
that
all about?