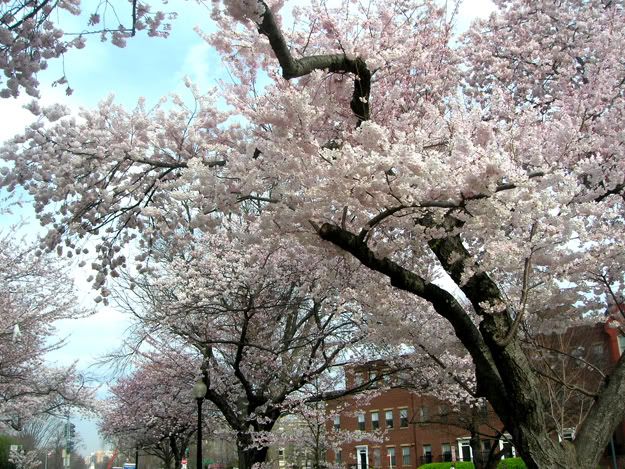 Think pink! Who can help it? Pink is all around! The trees on Capitol Hill as well as at the Tidal Basin are now at maximum poof and foof. The landscape is gorgeous, and, well, kind of silly looking. In a few days the blossoms will begin to flutter down like so much pink snow, but today? Pink. Really, really PINK.
It's a busy weekend in and around Capitol Hill. I'm referring not only to the Cherry Blossom Festival, featuring hordes of Cherry Tourists and their many many many many many many tour buses, but also to the opening game at the new Nats stadium tomorrow, the Smithsonian Kite Festival today, and at least two marathons.
All the activity: cherry madness, kites, people with numbers hanging around their necks running through the streets, baseball bats flying around while crowds cheer, etc. is thematically perfect. This busy weekend is a shamanic dance of alignment with the bursting energy of spring. All the gathering together, running, games, beer drinking, kite flying, buses and movement of people in and around the street level clouds of ethereal
pink
helps distribute the surge of upwards moving springtime energy. If we didn't run around frantically this weekend, I think the whole city would go up in a puff of pink smoke. There's so much energy available during spring! So, it's all good.
Overwhelming, though, for quiet types such as myself. It's a really good day to get out of the neighborhood, go hang out with friends in Columbia Heights where the vibe will no doubt be more peaceful. Carry on, ye shamanic dancers of Capitol Hill and Tidal Basin. Go forth and fly kites, oh great shamans at the National Mall. Shamans of the national game of baseball? Hit some out of the park, OK? Move that springtime energy around for the greater good, please!
As for myself, I'm outta here. Oh yeah!