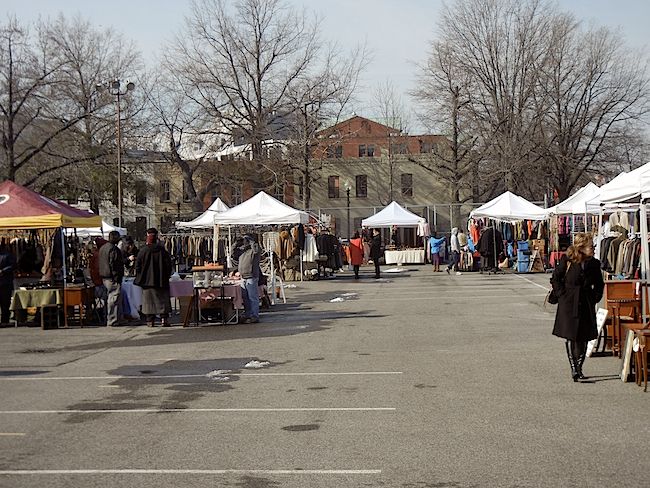 Sunday was extremely peaceful at Eastern Market.
Do you harbor a secret or not so secret perfectionism? Almost everyone I know does, which is so interesting, since there is no such thing as perfection. We
homo sapiens
can imagine perfection though, in spite of overwhelming evidence that it doesn't exist, or if it does, it is ephemeral. If you blink your eyes, you can miss moments of perfection, such as they may possibly appear.
Because perfection is either non existent or only persists for a quantum second, we mostly long for it. No one has a sustained relationship with perfection. No one. Hence, we humans long. We yearn. A taste of perfection is all we need to get hooked into a lifetime of pursuit.
Barbara Kruger, one of my favorite artists. You can buy a tote bag with this printed on it, at the Hirschhorn. A shopping bag, with these words. Ummm ... perfection.
Why do we spend so much time full of longing for the perfect life, love, job, vacation, hairdo, figure, wardrobe, house, car? Surely there must be some reason. Maybe the yearning itself (as opposed to the idea of what will be perfect) helps us or teaches us in some way. Does our yearning for perfection make our lives perfect? Let's see ... oh yeah ... never! So what does it do for us? Why do we persist? Does it make us wiser, kinder, more compassionate? It should, but does it? I have questions.
Today I'm thinking about all the people I know who - at the brink of early old age - wish for their youth again, or for the potential, the myriad possibilities young people have. All of a sudden, in a way never before possible, we are able to see how our lives
could have been
perfect. As we reach early old age, many of us go through a phase during which we're more desperate than ever for the perfect lives we had a crack at but of course did not not attain. What are we thinking? We should know better by now!
Longing to put old age wisdom to use in a young body is kind of hilarious, also universal and a part of the human psyche since forever. Young bodies are not wise - they can't be, what with the hormonal imperatives at work. Yearning, as a younger person, is very different. We must mate and have children, expand our fiefdoms, climb various social ladders, be good parents and successful businesspeople. Expansion is the energy of youthful yearning. At age 60, we want to go back for a do-over. Because we think now we know how to do it perfectly.
It's not rational.
When I was young, I was always on the make. That's where I put my longing - I invested a lot of time and energy into thinking about and having sex, really: an Awful Lot of Time. I pretended, even to myself, that it wasn't the most important thing, but it was, it really was.
Appalling, yet - I was normal in that regard, or maybe I can just say I was hormonally healthy. Good lord.
Now I'm almost 60. It's so different now. Where should I direct my longing at this point in time? I'm thinking about it.