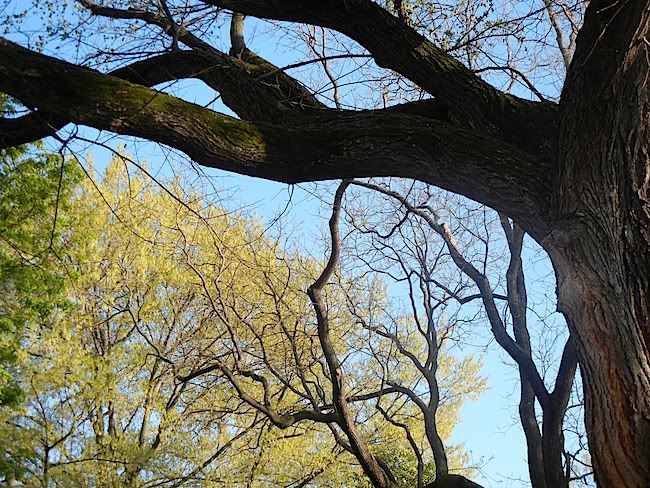 What a crazy spring. Everything is blooming all at once - so different than the way early spring normally unfolds - and now they say we're going to have a freeze tonight. Temps will fall into the upper 20s. Good lord, how will the green world adjust? And the birds - is this bizarro weather going to mess up their migration? I haven't heard the spring birds I usually hear at this time. It's upside down and inside out this year.
As if in shamanic alignment with the crazy weather, Brother Wind is flying around in fits and starts. Is there such a thing as a gust of wind that jerks, stops, blows, changes direction, blows again? Surely there is because that's what's going on out there. In addition, the city has decided to re-brick the sidewalk in front of the Chateau. It is completely unnecessary as the sidewalk is perfect. There are many blocks on Capitol Hill that could use the new bricks. Ahh, this is the E. Capitol Street experience. It's very loud.
Brother Wind, crazy weather, and screaming brick saws should be enough, right? But there's more! I'm talking about the shenanigans ongoing seven blocks away at the Supreme Court. I hate the term "Obamacare" which is absolutely meaningless. I do not envy the justices who will hear the arguments, nor the people camped out in front of the Court since it's going to get really cold tonight. I hear sirens and bullhorn announcements from down the street. Helicoptors are circling around overhead. It's mayhem I tell you.
It would be prudent to DUCK AND COVER today. I'm going to see clients after which I might forget prudence, instead nip down to the Supreme Court, take some pics. We shall see.