Contrails over Eastern Market, December 27, 2008.
I said a lot of goodbyes in 2008. It was a good year to let go of a whole bunch of different habits, relationships, and personal myths.
I left a business partnership of many years, and in the process, was able to let go of toxic relationships that weren't good for anyone involved. In the wake of that change, and of course with the help of the Sufi acupuncturist, other unhealthy patterns fell away. I say "fell away" because it wasn't hard to stop. These were seriously ingrained patterns. Perhaps the right word is addictions, though stopping was nothing like the misery I associate with rehab.
Addictions I let go of: drinking white wine every night, coffee every morning, eating Clif bars for breakfast, lots of dark chocolate every single day.
When I gave up one of my favorite dinners: popcorn with a side salad, and started cooking actual food for myself every night, the sour stomach I've lived with for decades completely disappeared. Go figure!
A bout of pneumonia that stretched from late September well into October forced me to recycle the myth called
I never take antibiotics.
The pneumonia served as a powerful healing crisis during which old relational patterns of codependence evaporated into thin air. That illness turned out to be a really good thing, can you imagine?
It's always a scary thing to say farewell, even to unhealthy situations - at least it is for me. But it was all for the good. I feel so much more whole than I did a year ago, so much more optimistic about the year ahead. I can think more clearly, have better energy and am more level headed - and hearted - than I've ever been. So many situations, people and habits that dragged me down are no longer a part of the Saga of Reya. Wow.
Parting is not always a great sorrow, really it isn't. Onwards & upwards, oh yeah!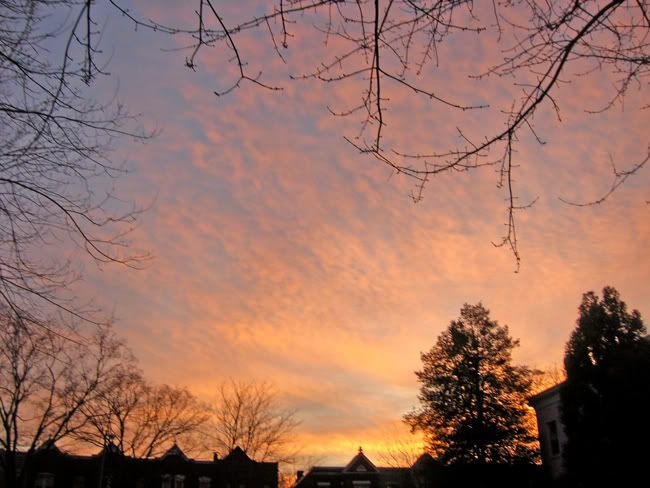 Sunrise on Tennessee Ave. NE, December 27, 2008