During the darkest quarter of the year, if you're going to be a photographer, you have to learn how to capture images at night. It's hard, at least for me. There aren't a lot of photons floating around, except in proximity to the Christmas lights adorning the front yards, and of course the obnoxious halogen orangey-pink from the street lights.
We urban folks take light for granted, but nighttime light is a fairly recent event. It used to be dark at midwinter, really really dark. Try as I might, I can't really imagine what life must have been like.
I love to think about Isaac Newton working with his prisms (in daylight only of course. Can moonlight be refracted through prisms? I have no idea.) Isaac lived way before electric light, so no wonder he was so fascinated with the stuff. He had two solid years to pull together his ideas about the nature of light, years he spent tucked away in a house in the country, avoiding the plague. Can you imagine? That was the mid 1600's in Britain, a rather unfathomable time not just because of the dark nights.
The good thing about Newton's enforced seclusion was that he had in his possession a book with hundreds of blank pages in which he wrote his observations and insights. Blank books were a very rare thing. He, and subsequently, we, were very lucky he had this book because during those two years, he did his most profound work with the physics of light. Can you imagine how he must have felt when he figured out that the prism actually
divides
light into different wavelengths? It must have been a hell of a moment. No wonder he turned to alchemy later in life. Light is amazing stuff. The darkest days of winter, even now in 2007, are a little bit scary. No wonder we gather in groups, make a lot of noise, light many lights, drink and eat too much. I mean, really.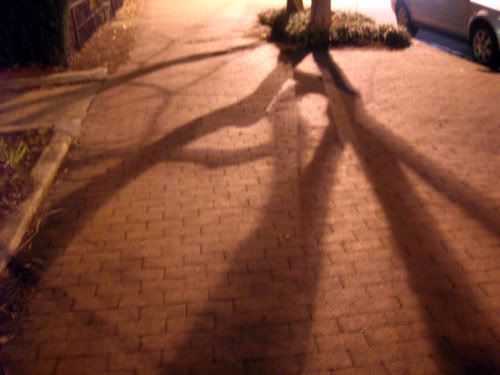 The moon has turned, and as of today, solstice has passed. The light will return again. I've continued my frenzy, and am feeling cheerful. After tomorrow I will rest. Happy return of the light, ya'all!