Join or die, eh? Cool painting on an arched ceiling, somewhere on the Senate side of the Capitol.
Once upon a time, the Capitol (and all other federal buildings) belonged to everyone. When FDR was president, it was possible to walk right up to the White House, knock on the door. Can you imagine?
Before 9/11, I used to take Jake down to the grounds of the Supreme Court where he frolicked with other dogs on the north lawn. I wandered in and out of the reading room at the Library of Congress anytime I felt like it. And, as I said yesterday, I spent time every week in the beautiful Capitol rotunda.
Before 9/11, was there security at the Smithsonian? Somehow I don't remember going through metal detectors, being scanned, having some security guard go through my purse, but I might be wrong about that. Everything was so much more relaxed.
People are drawn to the center point of the Capitol. When they stand on that point, they inevitably spin around. Everyone's a shaman.
Yep, I am in mourning recently, grieving for the old DC. Don't quite know why it took me nine years, except that I'm slow by nature. It's just now dawning on me how much I detest the security everywhere, how much I miss the simplicity and fun of entering and exiting from these national icons without being scrutinzed by some sour-faced guard. (Not that I blame them. What a terrible job. But - I could live without the scowls and power-over behavior, I really could.)
I don't feel safer. In fact, the security process, as it is actually practiced, is so random. Sometimes they check thoroughly, sometimes they just wave you through. Conceivably anyone could still smuggle a bomb into any of the so-called secured buildings. It's fake security, the same way that the big ole pepper grinder in restaurants is fake service. Or was. Most places don't make a big show of bringing over a 2 foot long pepper grinder anymore, thank god.
Pre 9/11 DC was a tightly-wound, hard-core city full of the smartest, hardest-working people I've ever known. But it was more or less accessible to the regular joes like me. Now it's a tightly-wound, hard-core city oppressed by a show of security that doesn't guarantee safety in any way.
9/11 was a terrible day. Its legacy is terrible, too. Dang, man. I miss the good old days.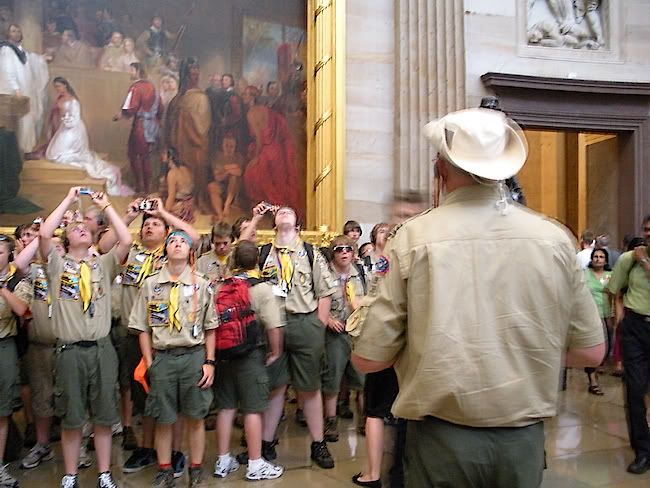 There are a whole lot of boyscouts in DC this week. They must be having some big convo. That's Pocahantas in the background, being baptised.