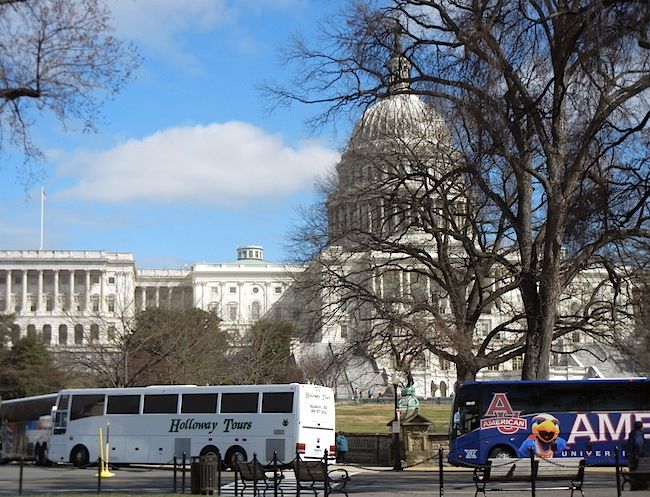 One of the reasons I love winter after Christmas is that it's a season when it's OK to burrow, to become a hermit. Even when I walk around in winter, I'm able to be mostly alone because people scurry from one indoor location to the next. Winter is peaceful.
In spring, people come outside. In the village of Capitol Hill spring is a time of neighborly interaction. On a beautiful Saturday, it's not possible to walk through Eastern Market without running into a dozen neighbors. The cultural norm here is to stop, chat for a few minutes. It's very friendly, cheerful, one of the reasons I love Capitol Hill. After months hanging out in front of the fireplace, in spring people come out to work in their gardens or sit on the porch, drinking a cup of coffee or a beer.
Spring marks the launch of tourist season as well. The city fills up with herds of people wearing matching teeshirts, lead by someone carrying a distinctive umbrella so no one gets lost. There are also herds dressed almost identically in dark suits, holding expensive cameras, as well as the families spending their vacations here. The herds of teeshirted tourists seem mostly bored or distracted, the dark suited herds are intent and focused, also very much out of place at the Tidal Basin, for instance, in those suits. The families appear stressed out, on the verge of snapping at each other.
I don't blame these people for wanting to visit Washington DC. It is spectacular in springtime, though as I always say it's hard to share the nation's capital with the rest of the nation. I try to be welcoming, help people with directions. Sometimes, as they pose for their talismanic moment - the taking of the portrait in front of the monument - I'll offer to take the pic, or I'll say, "You'll get a better composition in your picture if you take it from in front of the Grant statue." They don't really want to hear that part. It's a talisman, not a photo, after all.
I'm nice, but it is a challenge. However, it is spring and the people are arriving. The neighbors are out and about, the trees are waking up. It's a thrilling season in DC, a bit overwhelming for this introverted hermit.
I know it's healthy and appropriate to mingle with the masses from time to time. Spring is the right time in DC. Bring 'em on!
Shalom.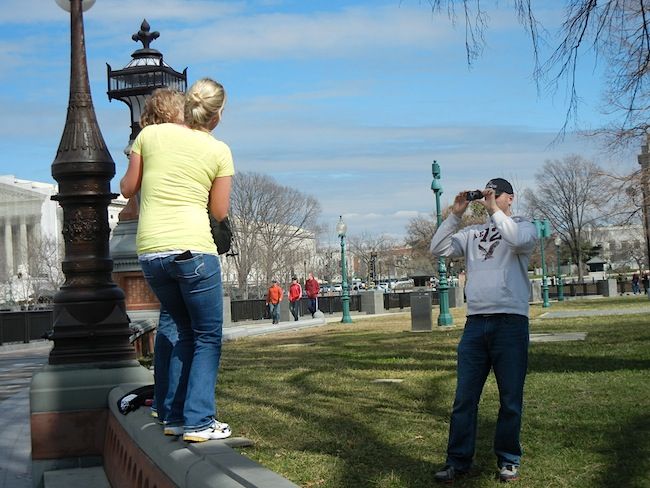 Creating a talisman of the moment. The Capitol dome is behind them.