Have I created a bonfire of all my torches as my animal guide suggested the other day? No I have not. The more I think about torches, the more I realize the bonfire isn't likely to take place until later this fall, maybe not even until winter solstice.
I'm telling you, I have carried a LOT of torches in my time. Still carry quite a few. It feels like this: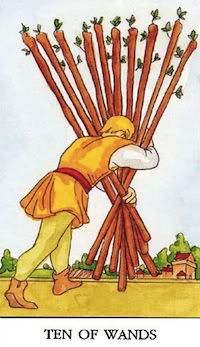 You would think I would want to lay them in a fire pit and ignite them ASAP, wouldn't you? If I did, I could run wild and run free. But I resist. Part of that has to do with the dog days of summer - why create internal heat from my torch fire now, when it's hellacious here in the swamp? In addition, I believe deep down I can and will build something very artful with all these old torches. I recognize these are rationalizations, not valid arguments, but hey, apparently I am devoted to internal hoarding of lost loves, ideas whose time has passed, memories now faded and stained. At least for now.
I used to believe I could build something new from what's old and moldy, but maybe not so much since I threw away my mildewed clothing. Something has shifted, yet I hang tight to my torches.

My examination of the vast hoard of moldy torches continues. I could pretend to put them down and burn them, but what's the point of that?
And so I carry on, shlepping these damn heavy torches wherever I go. Sigh. What doesn't kill you, makes you stronger.
I guess!