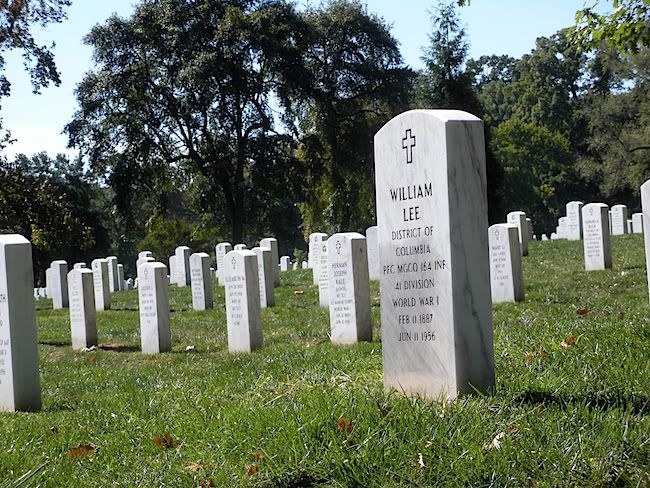 What is a sensible death? I hear the term
senseless death
all the time. If there are senseless deaths, then surely there are sensible deaths as well, yes? What came to me is that a sensible death would include scenarios in which the dying person is old, has lived a very full life, is ready to go - and the person's nearests and dearests are ready to let go. A sensible death is one in which the dying person is in his/her own bed, surrounded by the people who can be of most help with the passing. Also sensible is a death for someone who is riddled with disease, in terrible pain, without a chance for improvement.
How about
senseless deaths
? I decided, walking among the tombstones at Arlington National Cemetery yesterday, that accidents create senseless deaths. Car crashes, accidental electrocutions (while working on the wiring of one's house, for instance), falling off ladders, roofs, falling off cliffs while hiking - all of those kinds of situations create senseless death. All executions, for any reason, are senseless (and cold blooded, if you ask me.)
I used to believe that soldiers who died in the line of duty had suffered from senseless deaths. I'm not so sure anymore. Unless a soldier is fighting completely against his or her own will, that is. Assuming a soldier is doing something he/she believes to be the right thing, surrounded by like minded troops, I'm thinking that death in the line of duty is not senseless. Tragic, YES, but senseless? I'm not convinced.
We are eternally bonded
, says the
stone commemorating veterans of the brutal Khe Sanh engagements during the Vietnam War
. It also says, "Remember all who served, sacrificed." Though quite somber, the words on this stone convey (to me at least) a sense of cohesiveness among those who fought, a well-earned pride. Soldiers understand the risks involved, yet they gather their wits about them, walk shoulder to shoulder with their brothers onto the battlefields. Wars themselves? STUPID. I am such an anti-war person. But the deaths of those who put themselves on the line? I no longer believe this is a senseless way to die.
It was a lovely day yesterday, perfectly gorgeous Colorado weather: dry, cool air, warm sunshine, shocking blue skies, the trees just beginning to turn. I walked for hours around the cemetery, completely content and peaceful (THANK YOU SUFI ACUPUNCTURIST!)
It was a sensible way to spend the afternoon, oh yeah, strolling through the rows of headstones, thinking and wondering, whispering back and forth with my beloved dead soldiers. Just as I turned a corner to leave the cemetery, an Army guy drove slowly past. He said, "Ma'am, are you hoping to exit the grounds?" When I said yes, he pointed out that I was headed towards a dead end, that I needed to walk a bit further, then turn a corner. I thanked him sincerely. Those Army guys are, for the most part, so polite. They take care of us as best they can. I am very grateful. Shalom.