It's still going on of course - the Rally to Restore Sanity. I was there for a couple of hours. I stuck around until my head started pounding, at which point I made a hasty retreat. Was the rally as big as the inauguration? It FELT as big. Wow.
Though on the move for the two hours I was there, I didn't see anyone I know, which is incredible since
everyone
I know was planning to go.
Even in the most congested areas, everyone was so polite. "Excuse me!" "Sorry!" "May I get past?" This is not the kind of behavior I'm used to in DC. I had a nice chat with a very young guy from Cummings, Georgia, who described himself as a conservative who supports gun control. It was a mixed crowd of regular Americans. Though I'm sure there were a few folks there ready to get on a soapbox, everyone I saw was relaxed and friendly.
The signs were fantastic!
Here's a link to my FB album.
It is heartening to realize how many other Americans want calm, intelligent, bi-partisan conversations. We're not really as polarized as it always seems on the news.
Thank you, Jon Stewart! Salaam, Shalom and Peace!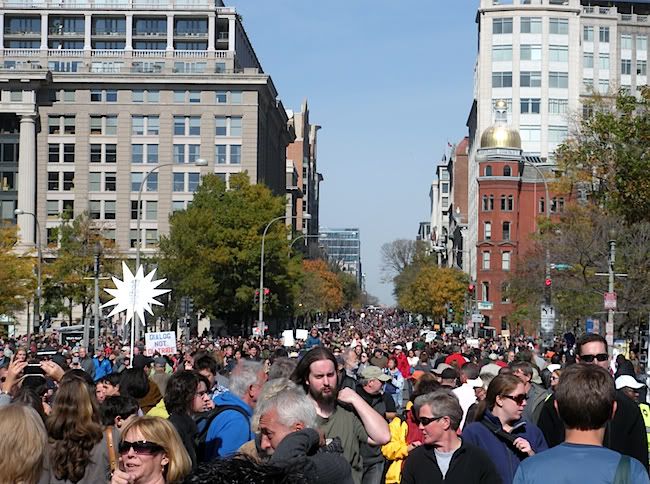 Facing north on 7th Street NW. Where I was standing was several blocks north of the mall. The crowd of those arriving stretches as far as the eye can see. Whoa.