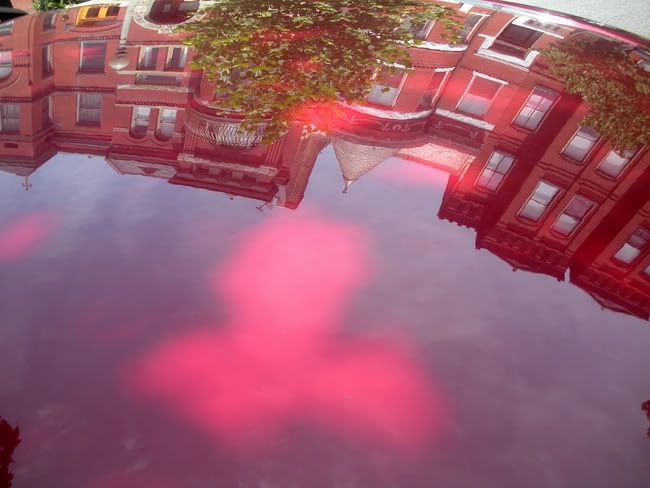 Our national health care reform debate is a mess. Every day I read another alarming report about the town hall meetings, about the anger and raging for and against reform as well as blind acceptance by others of whatever their favorite pundits have to say on the subject. A political cartoon from the Boston Globe shows an announcer at a town hall meeting saying, "To be fair, we will split the questions between the terribly misinformed, the rigidly ideological and the actively hallucinating." Yeah. What the hell is going on?
A huge smear campaign against Whole Foods started spreading through Facebook yesterday, in response to a Wall Street Journal editorial written by WFM's CEO John Mackey. Maybe it's in response to the actual editorial, or maybe in response to angry reviews of the editorial, I'm not sure. I read the editorial and though I don't agree with everything he wrote, think he made some very good points about health care in general. He says for instance that every adult American is responsible for his/her health. He makes a great point about eating well (of course). He also says that he understands there are a variety of opinions within WFM. He was responding to President Obama's call for debate on the topic.
The venom that we Americans are ready to spew at a moment's notice is truly distressing to me. This morning I was thinking that the Bush administration was so traumatic for our country, we became so enraged as our empire began to melt down, that we became accustomed to tilting hard against it. Now that Bush is no longer president, we're still looking to vent our spleens.
Raging against the machine is a hard habit to break, apparently. But is it helping us move through this crisis? Doesn't look like it to me. Maybe I'm mistaken. I'm very curious to understand what it looks like from outside the U.S. Help me out here. What do you think?
..................................
(Lots of great thoughts and comments on California Girl's blog
Women of a Certain Age.
)