When I was seven years old, I had my first eye exam. After I explained to the doctor that I was having trouble making out the big E at the top of the chart, he shook his head, turned to my mother and said, "She's blind as a bat." Oh yeah.
Glasses in those days were not dainty. The lenses were a half inch thick at the edges, the proverbial coke bottle bottoms, even in tiny, pearly little girl glasses such as the ones a seven year old would wear. They were heavy and awkward, and left dents in the sides of my nose. I hated wearing them because even though allegedly I could see through them, the whole world was rendered distant and tiny, and the frames cut out any possibility of peripheral vision. It was like watching the world through a very tiny TV. I preferred walking around blind, feeling my way through an impressionistic world, to the small, hard world of glasses. It was disorienting, alienating, and dangerous. Nevertheless I only put on my glasses when absolutely necessary. And I wonder why my childhood was so challenging!
The summer after my freshman year in high school, I stuffed envelopes all summer for the VFW in order to earn enough money to buy contact lenses.
After eye exams and what seemed like a terribly long wait for the lenses to come back from the lab, finally, at last, the eye doctor placed the tiny lenses on my eyes. After the blinking and tearing had subsided a little bit, I walked over to the window and gazed out at the world. I could see individual blades of grass, the texture in the concrete sidewalks. I could see the pattern of individual leaves on the trees, details in the clouds, birds sitting on branches. Nothing was remote and tiny or blurry. The world was huge, full spectrum, and sharply defined.
I passed out cold.
When I came to, the eye doctor and receptionist were peering down at me. I guess they had dragged me over to the reception room couch. They looked terribly concerned. It was the only time in my life I have ever fainted. It was definitely a transformational moment!
After that I threw away all my pairs of glasses and wore contact lenses for about thirty years. I used to dream that my lenses were as big as frisbies, that I couldn't remember how I fit them onto my eyes. One time I cleared out a medicine cabinet and made a contact lens museum. I glued old pairs of lenses, in their plastic cases, onto the back of the cabinet, affixed the stories of those lenses next to them. The contact lens museum always surprised house guests who were looking for a Q-tip or a bandaid. It was pretty fun.
These days I wear super extra-thin polarized non reflective tri-focal glasses. The lenses are complicated and high tech, and unbelievably expensive. And though I can't see at a distance as I could through my contacts, I can see pretty darn well.
That's my story of transformation. Fun to think about and fun to write. Thanks for the great meme, Steven!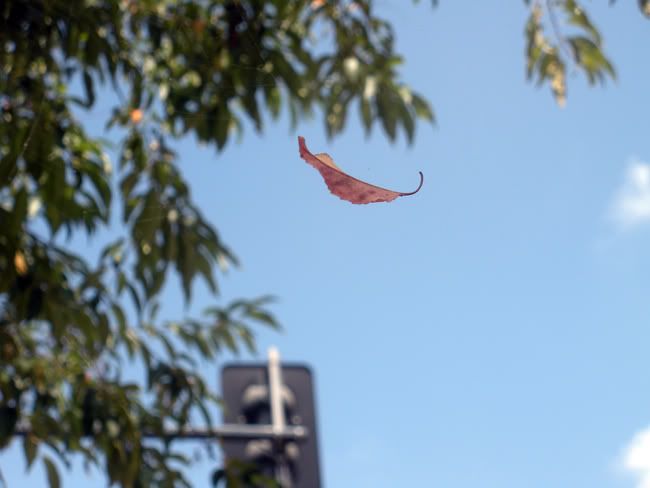 A leaf suspended in a spider web. Cool, eh?