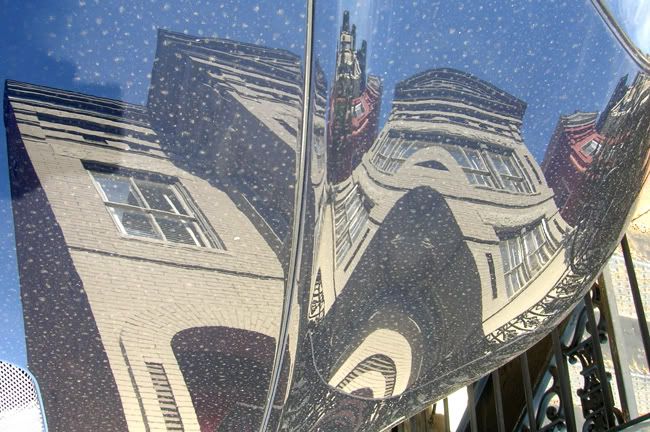 Names have always been important to me, so important that I've changed my name a number of times. At birth I was Rebecca. Growing up, they called me Becky. I never liked that; switched back to Rebecca as soon as it was culturally possible to do so (early 70's, when the Debbies became Deborahs, the Pattys became Patricias, etc.)
In my twenties, I called myself Ruby, a fitting label for my party girl lifestyle and deep red lipsticks. In fact there are still people who call me Ruby, including one friend in DC with whom I worked at Kramerbooks the first time I lived here in 1981.
Reya is the name I received at my initiation into Reclaiming. It means "daughter of the sunset." I like it so much that I've kept it even though I'm no longer associated in any way with Reclaiming or with anything wicca.
Other names have dropped away, like my Feri name, The Gold Poppy. Sort of pretentious, don't you think? The poppy part of that title never sat well with me. Several other secret magical names, as well as affectionate nicknames that were part of romantic relationships, are long gone, too.
I do have one personal name for myself that I have never told anyone. When I imagine my death, in a very romanticized way, I see myself uttering this name moments before my soul vacates my body. I imagine this name to be the last word I ever say aloud in this form. But who knows whether that's true or some cinematic figment of my imagination?
The Tao Te Ching tells me not to worry so much about names. I like that, because as soon as something has a name, then I begin to spin my stories about it. Time to look behind all the names, get underneath the labels. Only then (as they explain below) will I be able to gather the streams into myself as I go.
From Chapter Thirty Two of the Tao Te Ching
Things have been given
Names from the beginning.
We need to know when
We have enough names.
This is wisdom.

The Tao has no name
It is a cloud that has no shape.

One who walks the way, nameless
Is like a river reaching the sea
Gathering the waters of the streams into himself
As he goes.