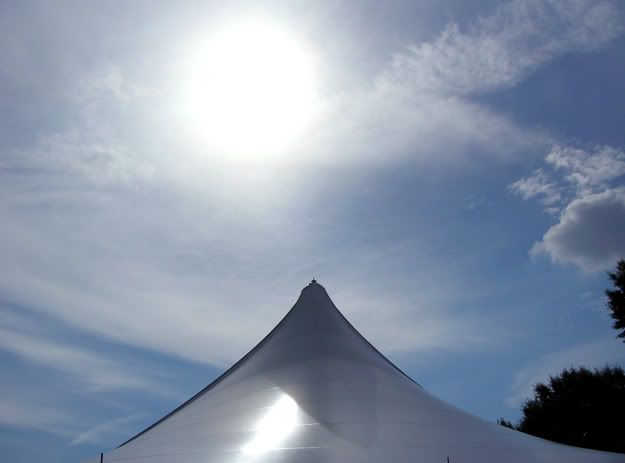 Top of a tent in Lincoln Park that will shelter the people celebrating Mary Bethune McCloud's birthday this afternoon.
In a perfect world, I would apply for a grant to do soul retrieval under the Metro bridges between Union Station and Takoma Park where homeless people set up camp. Gazing at them from my perch far above, inside the Metro train, I sense something missing among the bodies of the people there. It's hard to tell whether they're sleeping or dead.
The events that made them homeless in the first place were probably terribly traumatic - bad enough to rip off a chunk of soul. Add to that a life lived without shelter from the elements, no way to ever get a good night's sleep, plus the bad food and whatever else, drugs? drink? - it's a wonder that any of them can hang on to any part of their souls. I feel sad and scared when I see them from the train.
I'd like to get a job doing soul retrieval at a hospital. I imagine working in the intensive care unit and on the surgical wards quite a bit. Anesthetics, intubation and other common surgical procedures must surely chase away the dainty parts of a soul. The things they do to people in hospitals! Yikes. I know it's all meant for the good of the patient, but it's so extreme.
A friend asked if I would work in oncology. I don't think so. The cancer survivors (and sufferers) I'm personally acquainted with are abundantly soulful. Something about that disease seems to almost always bring out the best in people. It's a cruel blessing.
Even as I daydream about socially responsible soul retrieval I remember it
isn't
a perfect world, so I won't hold my breath about receiving a grant or getting a soul retrieval position at Georgetown Medical Center. Oh well. It's a fine if imperfect world. Life is good and I am grateful.