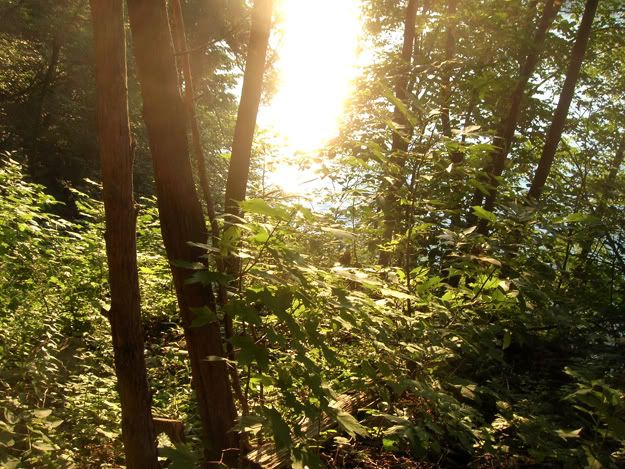 The gold dazzle at the center is the setting sun reflected in the Potomac.
Almost the minute my feet touched the ground in Washington DC I felt at home on the land. I love the crazy weather, abundant sunshine, lengthy spring and fall and gentle winters here. I'm crazy for the Potomac River from its headwaters to the place where it empties into the Chesapeake Bay. I love all the trees and green space, and I love living in a city where no building can be taller than the U.S. Capitol. I know,
I know,
there are bugs, humidity and pollution. The water here is awful, I know. But I love this parcel of land. My feet feel at home treading here, always have.
The people are a different story. It took me years to find a foothold in the local culture. My life goals (such as they are) do not mesh with those of my fellow Washingtonians. I'm talking about the ambitious brainiacs who create national policy in just about every area you can imagine, people who have made it to the top levels of hierarchy in their chosen fields by being tough and relentless, and so very very smart. I'm referring to the people who routinely work 90 hour weeks, just because that's what it takes to get the job done. Even compared to those who didn't finish their Ph.D.'s before the age of 25, and who don't hold positions at the dizziest heights possible, I'm still a complete freak with my part-time work schedule, spirit guides, tarot cards and unusual points of view. During my first couple of years here, I tried so hard to understand the social cues, but failed miserably over and over again. It was humiliating and I was lonely.
In many ways, I will never be a "real" Washingtonian. Still, over time I've made common cause with a small handful of people who accept me exactly as I am (even if they don't completely "get" me). Every one of these friends is spectacular in his or her own way. I love them dearly. They are my people.
I spent this past weekend with some of my nearests and dearests in a luxurious cabin on the Whitings Neck of the Potomac River outside of Shepherdstown, W.V., talking, hanging out on the screened in porch or down by the river. We laughed, talked, feasted, rested, drank too much coffee but not too many beers, compared notes on each other's lives.
It took awhile, but finally I've located my people. My circle of friends is modest, and that's OK. This land has always been home sweet home to me. Because of my dear friends, my heart is now also completely at home. I'm so lucky!
View from "the terrace", overlooking my beloved river, 9:00 a.m. yesterday