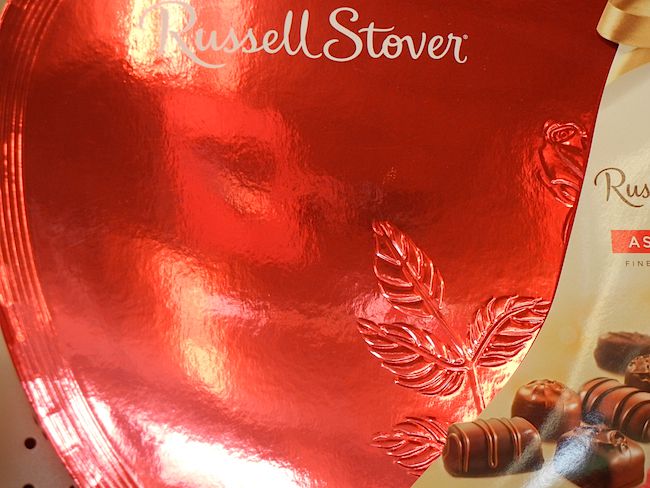 This box of chocolates was huge. Too huge. It would not be flattering or romantic to receive one of these.
I go through things, I do. I can be relatively steady and grounded for awhile, but shit happens and when it does, I respond whole heartedly. Sacred drama is a part of the shamanic lifestyle. We dance with the energy at hand, no matter how choppy that energy might be. Energetically, shamans ride the wild surf.
With that in mind, I'm wondering why I was caught so off guard by the imminent arrival of age 60? Everyone said it was a tight spot, but did I listen? I always think I'm the exception, definitely not the rule. I believe I can pre-think my way through experiences, that I can plan and order my responses. But emotion
never
works that way. In some ways I'm over sure of myself. I wonder why? Hence I get tripped up often.
My birthday is a little over a week away. I know I will see the Sufi acupuncturist, then have lunch with one of my very favorite people. The rest of the day remains unplanned. I know I won't be in Paris and also that I will not be on my couch watching Godard movies on my ipad, as I have been recently. How the evening will unfold is anybody's guess at this point.
I'm getting a grip. I've flopped and shuddered and worried and grieved - all of it completely normal for someone on the verge of early old age. The most intense wave of emotion has passed. My feet are on the ground. I can do this.
I trip on my intensity all the time, I always have. Getting up afterwards, dusting myself off and learning from whatever just happened accrues wisdom. Whatever increment of wisdom I now possess has, every bit of it, comes from powerful emotional response. Is there an easier way to learn? You tell me.
Onwards & upwards. Shalom.