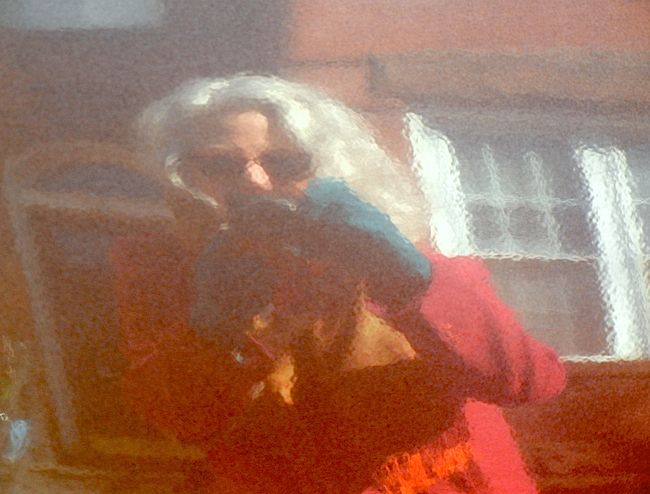 When we were kids, my sister picked up some acorns while visiting the Lake of the Ozarks with friends. When she returned, with great care and love, she planted the acorns in our back yard. She tenderly nurtured the trees, even putting tiny fences around them when they were no more than twigs with a single leaf. She posted a sign on the tiny fence,
"Please do not cut down the oak tree,"
so the neighbor who mowed our lawn would steer a course around the vulnerable, brand new oak shoot.
Fast forward fifty years to my visit to Kansas City last December. I hadn't seen the old house for a long time, maybe 20 years or more, I can't remember. I had a spare hour or so one day, hence I decided to check it out. It was a very foggy day in Kansas City, creating a cinematic atmosphere as I approached. In fact, the fog thickened and started blowing around in wisps as I turned onto the street where we once lived. That weekend in Kansas City was epic, I tell you. Epic.
Of course I noticed how small the house looked, how tiny the side yard where we used to play every kind of game during the summers. My old bedroom window, the one I used to crawl through to escape into the night (during high school with my best friend and our boyfriends) seemed hardly big enough even for a young person to climb through. Everything about the place seemed too small.
Except for the oak tree my sister planted, the one that took root and flourished over the years. The tree is monumental. I had to get out of the car to see the top, it has grown so tall. The trunk is enormous. The house looks even smaller beneath the tree's lofty branches.
This morning I was thinking that at age 60, I'm more interested in the tree than the house. Earlier in life when I drove past the old house what I noticed was how I had outgrown it. Last December what I noticed was the tree: well established, mature, with a beautiful presence. The smallness of the house is no longer interesting. But the tree. That tree is awe inspiring.
Long ago I grew out of that house, you'd better believe it. Years went by. Then decades. Only now am I becoming, like the tree, old enough to be monumental, to have presence. It's a beautiful tree, hale and hearty. May I stand so tall in my 60s! May it be so.
As I drove away the fog lifted. You can not make up this stuff.
Shalom.
See the moon above the chateau and to the left?