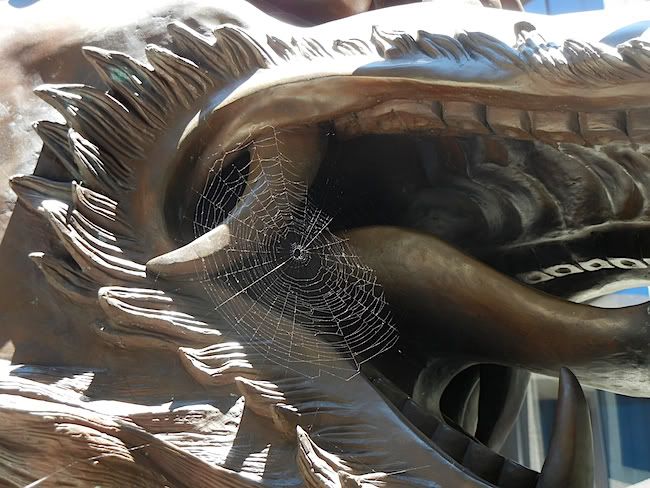 Spiderweb in the mouth of the dragon head at the Hirschhorn.
I only got stuck once while walking through the Holocaust Museum yesterday. It was in the section about the ghettos and how people were transported to the camps. A part of the exhibit is a railroad car typical of those they used. There's a path through the car, also an alternative for those who don't want to experience that tiny dark creepy space in which 100 people at a time were crammed. I stood there for several minutes, wondering if I should try to walk through. I was stuck, staring at the car, trying to figure out what to do next. I might have been there for a long time if not for my great teacher.
Just as I predicted, Pandora appeared from out of the nowhere it seemed, took me by the hand and walked purposefully towards the car. That was exactly what I needed, of course. Her grounded, centered strength lifted me out of that tight spot. She is awesome! I smiled through my tears when she took my hand. Inside the car she stopped, held tight to my hand, making me stop, too. I meant to pass through as quickly as possible but that wasn't right. Of course she knew what to do. We stood there for a few transformational seconds. Wow. Once we were out of that space, she released my hand, looked me over briefly, and moved on.
The museum is thoughtfully and beautifully designed. I didn't learn anything new, but of course that wasn't the point. Walking through the exhibit was a challenge I was ready to face - with Pandora, should say. I only wanted to get through it, to tolerate the energy of that history for a little while. Did the experience help me believe I'm brave? I'm not sure about that. It certainly reinforced my trust in my teacher's incredible talents and affection for me. But did it help me? I can't say it did. It's interesting to think about.
As I suspected, the piles of shoes, the bunks from Auschwitz, struck me as lurid. I really think they should throw the shoes away, send the bunks back to the museum at Oswiecim. I believe the energy of the Holocaust is still unwinding. Letting go of the shoes would enhance the unwinding. Tell the stories, look at the photos and films, but let go of the stuff, I say.
My favorite space was the shtetl room filled with portraits of the people before the Holocaust. I love connecting with that world, now long gone. The walls are covered with portraits of people posing formally, walking through the shtetl town centers carrying books and such. It's a grand room extending upwards three stories, connecting every level of the exhibit. At the top is a skylight so this one space is filled with natural light. Fantastic. The room is a central column. It is a light-filled altar, so beautiful. The exhibit is structured so that visitors pass through the room before and after the section that details life and death in the camps. It's literally refreshing.
I also appreciated the room of remembrance at the end of the exhibit. A friend told me I would love it and I really did.
I disagree with those who say everyone should see the Holocaust Museum. It is an awful journey that is so intense, even the tourists were quiet and respectful walking through it. I needed to do it to show myself I'm braver than I think I am. I did it, but I don't think you need to.
How ironic that the tattoo experience was quite different than I expected while the Holocaust Museum was exactly as I thought it would be. Not sure what to make of that but I'll be thinking about it for awhile.
It's a gorgeous day in Washington DC. I'll be working all day today, a very good thing. The two days of ordeal are completed. Now what? Onwards and upwards. Shalom.