After my intro to bass guitar yesterday, I had to get out for a big bike ride. There was so much energy moving through me, wow. Or should I say 'whoa'? Seeing the bass here in my living room was completely normal, familiar as my sister Deborah said when she saw a pic on FB. However the concept that it's ME who is supposed to pick it up and play is unnerving - in the best way possible.
I remember when I first started cooking I felt unsure and awkward, so stupid! Also when I started learning how to do bodywork, I was very self-conscious. I felt bizarre putting my hands on people. Both endeavors were really hard, but in both cases the fact that I stuck with it and got past the self consciousness, got past the awkwardness, has brought such beauty into my life. I love to cook! I love putting my hands on people! It was well worth the learning curve.
Similarly, picking up and holding the bass, putting my hands on it the way Cyndy showed me, strumming, trying to find the "sweet spot" where the notes don't buzz, is thrilling and strange - surreal, actually. But that said, please know: I LIKE IT.
I'm especially enthralled with the practice amp I'm renting. It's a crusty old veteran of many a gig, clearly. It is beat up and scratched, but still sounds great. It's very cool. The bass itself is pretty, not too heavy, and has attitude. It is not the bass I would choose for myself - but it's a character, a worthy adversary, daring me to pick it up and strum a few notes. In other words: perfect.
Perhaps I should have already figured this out (DUH) but the fact that it is an electric guitar means I am also learning to work with electricity in a brand new way. I didn't think about the fact that there would be pick ups and volume controls, knobs and plugs and cords and adjustment thingies to work with, too.
I am officially in awe of all musicians. All I can say is: wow.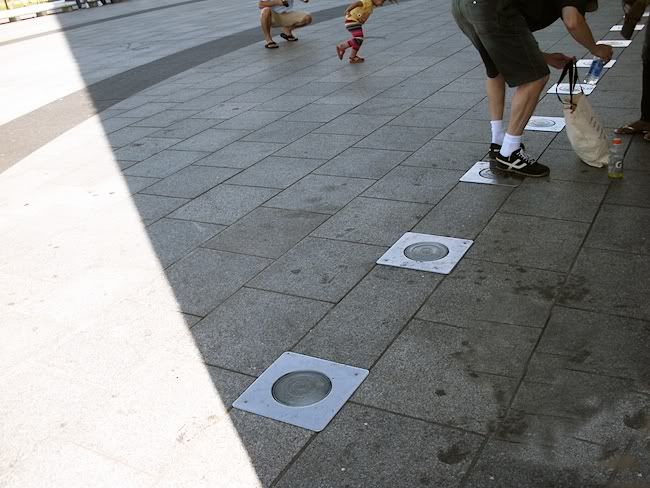 In the shadow of the Washington monument