Homage to Ellen's beautiful sunset photos.
One thing I'm loving about this very first part of learning to play the bass is that I
have to listen.
I'm a good listener, but it's also true that much of the time, as I listen I am already forming my response. Through the long summer of big ole thunderstorms I listened so hard to the thunder, all the time asking, "What is my brother trying to say? What is he telling me?" I was so fixated on the translation, rather than just letting the sound roll over me. It was not at all a pure experience of listening.
I listen to the crickets, but I already know what they're saying:
Sex sex sex sex sex sex sex.
Listen to them sometimes - it's very clear, very matter of fact.
Just yesterday a hummingbird came out of the nowhere as I sat on the porch at work, waiting for my client to arrive. He checked me out carefully, flew close to my left ear. I believe he whispered something to me, then just as suddenly as he arrived, he flew off, heading due west. What he whispered sounded like
Bbbzzzzzzzzz
to me, but I have a feeling there was more there than that. Because I have a friend who has an affinity for hummingbirds, I thought of my friend while listening to the bzzzzing, so I wasn't really fully there for the sound.
But when I "play" the bass (definitely premature to say I'm playing it), I don't have preconceived ideas about what I should be hearing, I don't really even know what to listen for. Hence listening becomes a very pure experience without expectation and even without judgments. I just started learning - I'm supposed to suck! And I do, I really SUCK at "playing" the bass.
What the bass is showing me first and foremost is to listen openly, to listen as if empty (like the bowl with the box of cereal poised over it, not like a bowl put away in the cupboard). This is a really good thing!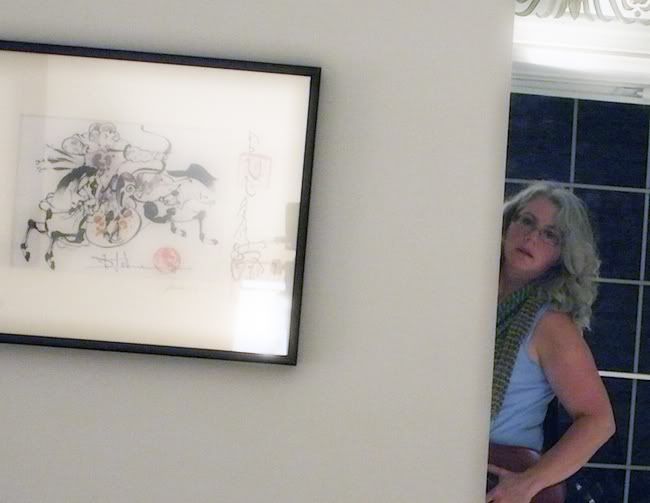 I look so serious. I am really LISTENING.