One of the many intensely beautiful mosaics in the Basilica at Catholic University.
The first chateau houseguest has come and gone. The verdict is in: I am PRO houseguests ... and I vote.
In spite of the fact that I slept in my own bed and never left the District of Columbia, I feel like I've been on a two-day vacation. How fun to walk around my city with someone dear and near, to see parts of the city through her eyes. How fantastic to sit and talk and talk and talk. Oh yeah. We read tarot for each other, we danced shamanically with the chateau and with this crazy city in the midst of the final heat wave of our long swampy summer. We re-invigorated our heart connection. We had a blast.
This morning I'm trying to gather my wits about me - heading off to a full day of work, and such. It's kind of a shock! My guess is that I'm out of it as the result of putting aside all my usual routines and habits so as to simply have fun. So THIS is a staycation, eh? I like it. I do.
That said, I'm looking forward to catching up a bit here in the blogworld and on FB after work. Did anything important happen in the last two days?
Having a houseguest was great, getting back into the swing of things: also great. Life is good and I am grateful. Shalom.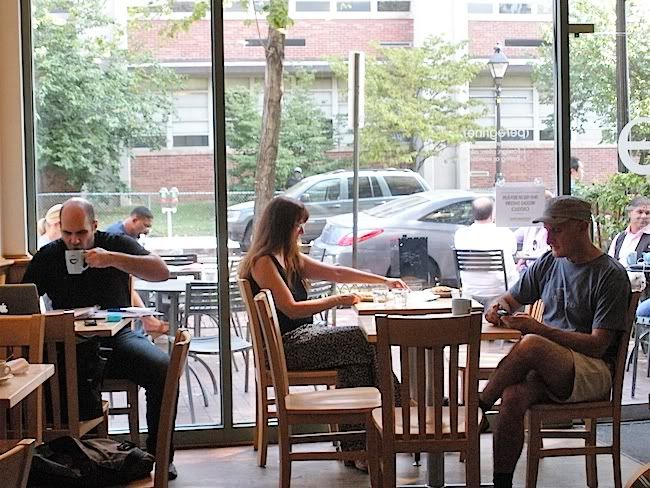 That's my friend Salima having tea at my favorite cafe.