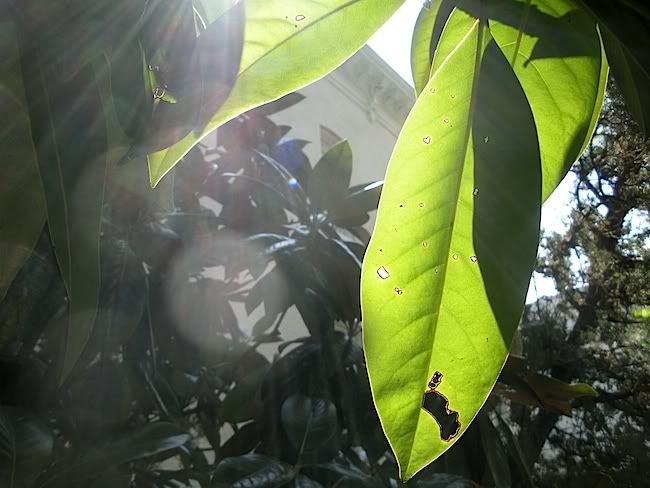 I'm in awe of the power of bugs - that they can chew such big holes in leaves, you know? I mean ... their teeth are so tiny! Wow.
Washington DC is close enough to the coast that when a big ole hurricane goes by, we can partake of the energy but almost always without having to weather the terrible destructive aspects of these storms. This morning for instance, it is overcast. Looking at the weather maps, I see that this overcast is a far-flung band of the western side of Earl, the hurricane moving up the east coast today. Here in DC there's no wind, no rain, and indeed today will be another very hot day, a kind of non-day actually, since hurricanes suck all the energy out of the atmosphere for hundreds of miles all around them. It will be hot but won't have any kind of resonance; the day will feel like nothing, heat without weather to accompany it. I wonder if that makes sense? The good news is that Earl will take the heat and toxic air with him, out to sea, up to Atlantic Canada, or wherever he is heading. Thanks, Earl!
Every now and then a hurricane will come ashore, give us a taste of its power. Ordinarily those storms make landfall in the Carolinas, or come up from the Gulf. The ocean is their power source, so by the time they arrive over DC, they've almost always worn themselves out. They are referred to as "the remnants of .." followed by the name of the storm. Even hurricane remnants are very powerful and frightening to small, delicate species such as ourselves.
The Atlantic Ocean is really in a mood this year. Following Earle is Fiona, then Gaston, and another not-yet-named storm. This is a year when waves of energy coming off the west coast of Africa, riled up by the warm water and atmospheric conditions over the sea, spiral and gain power. Wow. Some years the sea is calmer. I wonder what Sister Atlantic is so upset about. You know that's the way I think about these things.
Sister, why so cranky this year? Or are you simply expressing yourself somewhat vociferously? I'm listening carefully. Whazzup?
I pray for the safety of all beings in the paths of these powerful vortices.
Happy Friday, y'all. And to those of us in the U.S., happy Labor Day weekend. Shalom.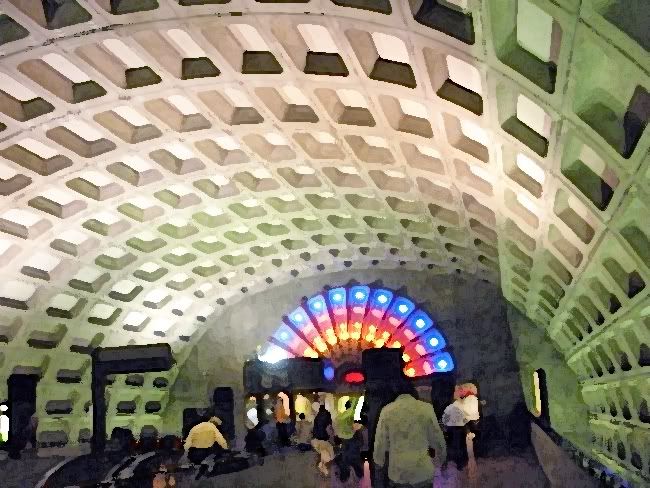 The Chinatown metro station, photoshopped.