It's interesting that during our double blizzard, people did not build snow citizens as they usually do, but instead, they created shelters, igloos and forts. Seems so right.
Brother Sun is so powerful, wow. He was out in full force yesterday, gazing down at all the snow. Also, the ambient temperature rose to almost 40 F, well above freezing. And the snow began to melt. I wasn't at work for very long, but the change in the altitude of the snow mountains was clearly visible when I walked across the street on my way home. Brother Sun, I salute you! Wow.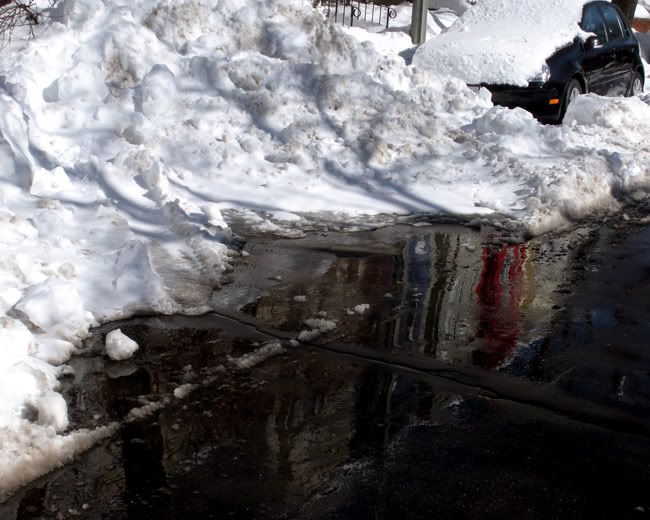 Melting snow and reflections on C Street SE by Eastern Market.
Before I went to work I took a nice walk down to Eastern Market. We human beings are so predictable - everyone was smiling, radiating his/her own version of sunlight. We can't help but dance in shamanic alignment with the weather; it's how we're wired.
Human exuberance was as palpable as the aqua dazzle which turned my mind to spring. My forecast is that spring will be extra wild after the cold, snowy winter. This is as it should be - a real winter followed by an extra crazy spring. All is right with the world. Amen.
Snow mountains at Eastern Market, a man drinking what I thought was milk, but the sharp-eyed NanU pointed out is really a Coke.