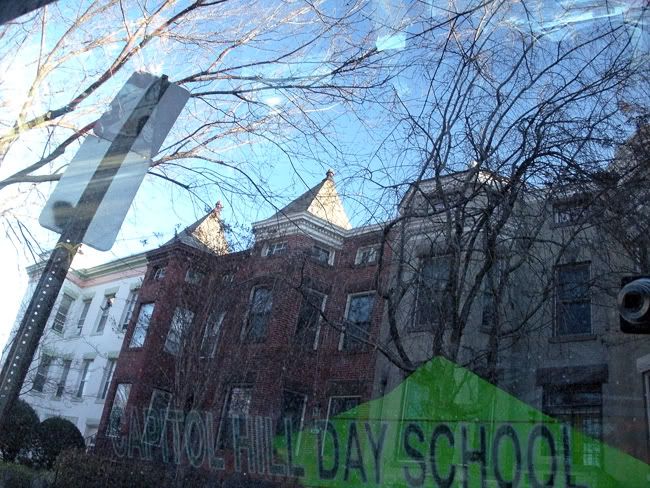 I live in one of the loveliest little villages in the world, Capitol Hill. My village exists within the city of Washington DC. There is no wall around the neighborhood, there are no village boundaries marked with stones, signs or fences, there is no gate to the village of Capitol Hill. Nevertheless, all of us who live here know exactly where our village begins and ends. The walls and markers are unnecessary.
The benefits of living on the Hill are many. I would never have believed it when I lived in San Francisco, for instance, but it's true that Capitol Hill is by far the friendliest neighborhood I've ever lived in. If anything bad ever happened, really
anything,
I know I could knock on just about every door on this block and be welcomed in. I am not exaggerating.
So, it's great to be a Hillizen - and - the disadvantages of living here have to do with a tendency to get stuck. A potent Capitol Hill inertia developed the moment I moved here. That inertia gave rise to an idea (which quickly took root in my head) that leaving the Hill was not desirable. Or even possible.
It's always kind of a surprise, when I get on the Metro to go have dinner with friends in Dupont Circle, that I actually
can
leave the Hill. Maybe this sounds strange, though if you talk to other Hillizens, they'll confirm I'm not the only one who feels this way. We live in our own reality, a reality we prefer to remain within. Our reality is good and sometimes not so good (as are so many realities in life, yes?)
In the spirit of my goal to branch out this year, I've secured a deal to work downtown one day a week, beginning in March. I'll share the office with a naturopath, homeopath, and a craniosacral therapist. Cool? Yes, I think so, too. I'm going to be working on K Street NW, right in the thick of downtown. Yay!
This spring, I'm making it my business to get off the Hill on a regular basis, whether it feels possible or not. Inertia? What inertia? Won't the trees be so proud of me?