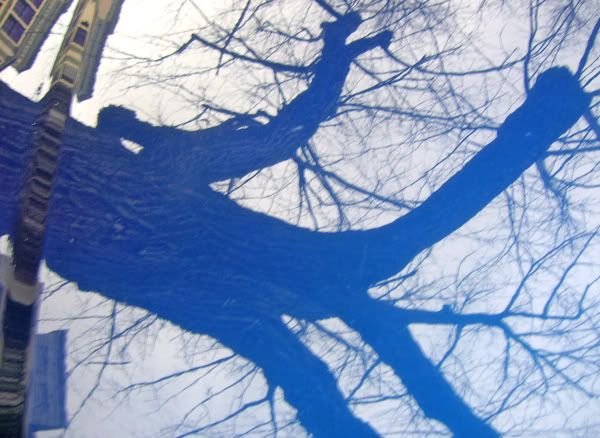 I couldn't take my eyes off the trees today during my trudge to work and home. It was another gloomy day (we've had Connecticut weather all winter this year, except not cold). The light was perfect for highlighting all the branch stumps where the trees have been crudely trimmed.
Pruning is an art. Cut the wrong branch at the wrong moment and the tree shape will never quite recover itself. In summer when the trees are in full leaf, the structural oddities are hidden behind a thick blanket of green. But in winter, trunk, branch and twig are completely exposed.
All the chaos of empty trees with their gnarly trunks, blunt branch stumps, badly cut once upon a time, is far more fitting as a metaphor of my spiritual path than the graceful symmetry of the walking labyrinth.
In fact when I think about it, every spiritual journey I've ever heard of contains false starts, dead ends, branches chopped off at the wrong moment, in the wrong way. All spiritual paths require a lot of back tracking. More than a graceful walk, more than skillful navigation, the path of the spirit seems to me like a trial and error experiment (with many moment of bliss, many moments of confusion).
So, the pattern of spirit really is a maze, not a labyrinth after all. For heaven's sake!
Everyone I've ever met has longed to evolve beyond our quintessential human behavior of blundering around like idiots when it comes to God. We want to walk mindfully, with grace, reverance and openness through our lives. Who do you know who can really do it, though? Maybe the Dalai Lama? Maybe. The people who designed these walking meditations must surely have realized how much we humans need inspiration. Who wouldn't want to believe in the idealized path of the labyrinth? I do!
Maybe the labyrinth walk is our way of
practicing
all those things that no one can count on in real life. I'm talking about a smooth path, no sidetracks, no mistakes made. That would be lovely! Wouldn't it?