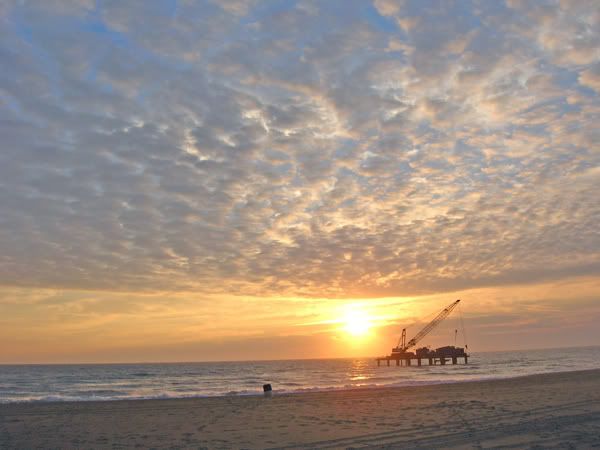 It was an obsession of Eunice Goode's that there was very little time left in the world, that whatever one wanted to do, one had better get it done quickly or it would be too late. Her conception of that segment of eternity which was hers to know was expressed somewhat bafflingly in a phrase she had written in her notebook shortly after arriving in Tangier: "Between the crackling that rends the air and the actual flash of lightning that strikes you, there is a split second which seems endless, and during which you are conscious that the end has come. That split second is now." Yet the fact that her mind was constantly recalled to this fixed idea (as a bit of wood floating in the basin of a waterfall returns again and again to be plunged beneath the surface by the falling water), rather than inciting her to any sort of action, ordinarily served only to paralyze her faculties.

-- "Let It Come Down," Paul Bowles, 1952
Thank you so much, Steve, for
yesterday's post
about time. I have stolen the quote shamelessly, in its entirety. Though I know you didn't consciously understand you were sending me the best birthday message possible, you were! Mr. Bowles wrote these words just a few months before I arrived, screaming, colicky and melancholy, exactly 55 years ago. Wow. Love being on your wavelength. Thank you!!
It's gloomy and rainy in Washington DC, but I have a very nice day ahead anyway, including a session with the Sufi acupuncturist, lunch at a fancy restaurant with a good friend, dinner tonight at the home of another good friend. In addition, my family got together and did a psychic reading for me for the coming year. Their divination tool of choice was a sushi deck of playing cards. Is that cool or what? I am in awe of this wonderful gift.
Another turning of the wheel, another birthday, another brief moment of awareness between the crackle and the flash. Life is good and I am grateful.